On social networks, the candidate's team emphasizes media and polls that appear to be coordinated to support his campaign. The theme is "hidden voting".
Five years after François Fillon's use, the "hidden voting" debate has revived. This time around, Eric Zemmour has been struggling in polls over the past few weeks, with Marine Le Pen and now Jean-Luc Melenchon moving away. In the latest Opinion 2022 poll conducted by the Elabe Institute on March 22, his turnout was only 10%.
The candidate and his supporters regularly evoke some of the French whose voting intent is not reflected in polls-set up like a social network.
To support this statement, Eric Zemmour's team regularly (very realistically) evokes candidate weights on social networks, especially Facebook, Twitter, or YouTube. But on these same platforms, Eric Zemmour's proponents rely on polls with vague methodologies, to say the least, and media that are less transparent about their origins.
Random voting
Earlier this year, many shared Qotmii numbers. This is an application that the founder described as "based on artificial intelligence", which claims to define the weights of candidate opinions, but does not explain its operation and is regularly considered wrong. I am. In the past, for example, about the 2017 Francois Fillon score.
On Facebook, the "Youth with Zemmour" account picked up this same source on Sunday, March 20th, ensuring that candidates will participate in the second round with Emmanuel Macron.
A publication advocated by the creators of Qotmii that maintains the confusion between actual voting intent and the vague notion of "election potential." Always for the same purpose: to suggest the existence of a "hidden vote".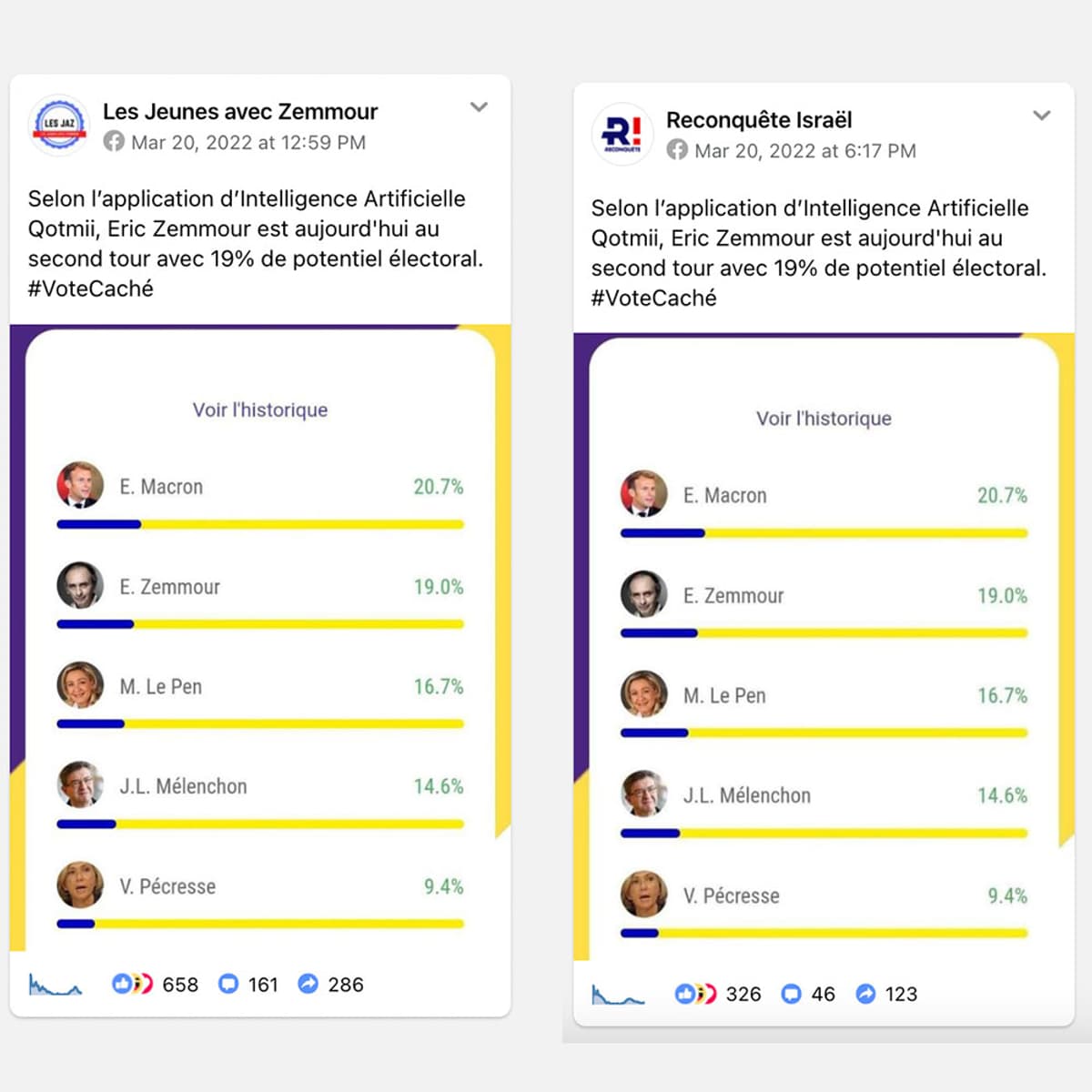 Faced with Eric Zemmour's air holes, some of his supporters relay another Twitter account called "Pol Stat" to keep the flames alive. And for good reason, he placed Eric Zemmour in 16% of his voting intentions, well above Marine Le Pen (11%). Therefore, he qualifies for the second round.
Among the tweets most relayed using the hashtag # VoteCaché is a message from the Twitter account "Reconquête Asie" that relays these numbers. According to the visuals posted online, these are based on the candidate's "e-reputation" estimates.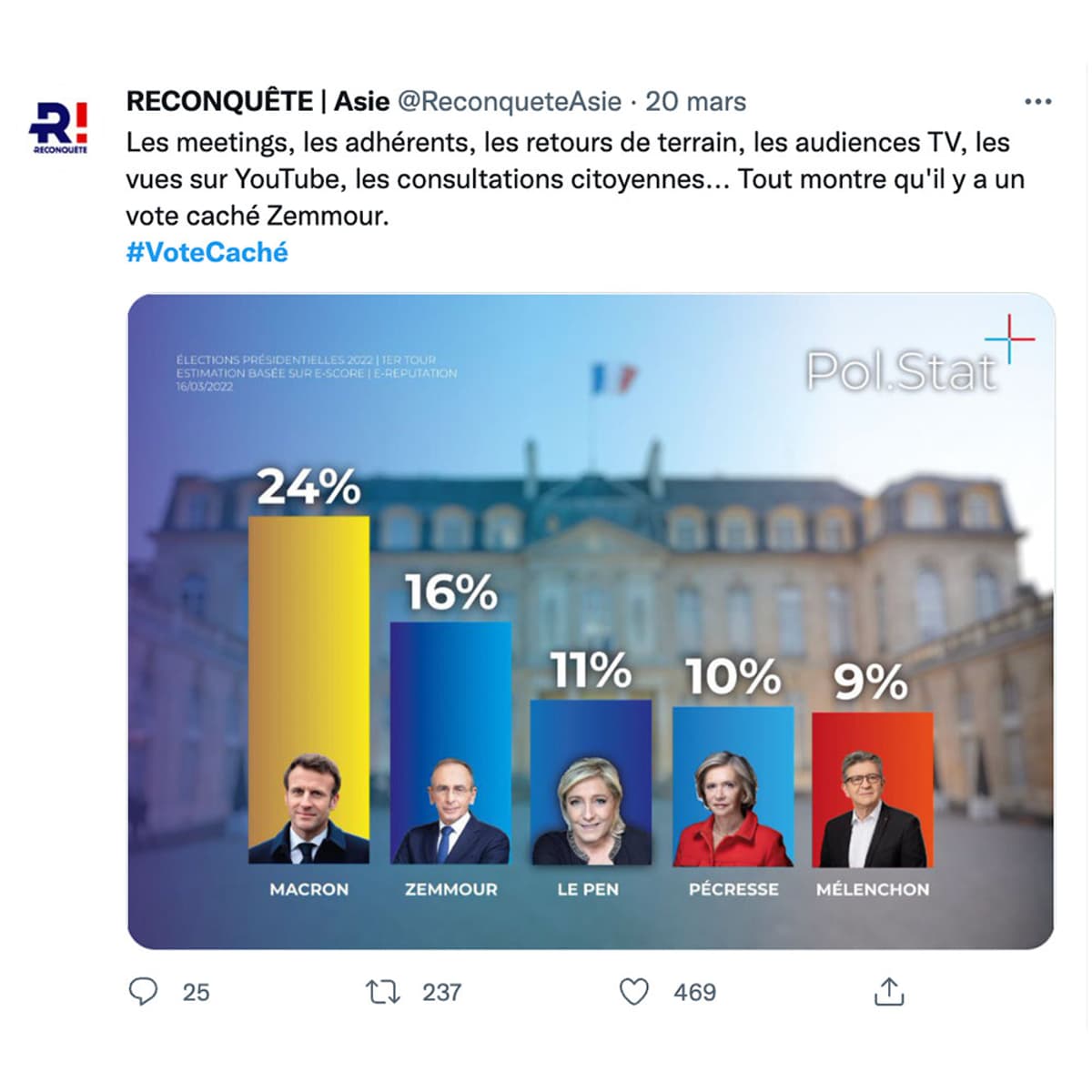 According to a question from BFMTV, Pol Stat, summarized in a simple Twitter account and, to say the least, a rough site, voted for the popularity of candidates on social networks. Pol Stat also refuses to identify the person responsible for this mysterious "investigation and investigation" agency or to give the official name of the company.
The only indication of possible affinity for this account: List of his likes, Eric Zemmour or his relatives systematically emphasized. The only exception is to the "like" mention given to Éric Ciotti at the end of 2021. On BFMTV, Samuel Lafont, responsible for Éric Zemmour's digital campaign, guarantees that there is no link to the PolStat account.
FR +, Reconquest Communication Tool
In addition to these less opaque "opinion polls" broadcasts, others, this time presenting themselves as "media," are increasing the number of publications that emphasize Eric Zemmour.
It starts with FR + (short for "France Plus"), which is defined in the Twitter account as "political news media", but its publications are with Valérie Pécrès, Eric Zemmour's main rival on the right and right. We are systematically targeting Marine Le Pen. In some videos broadcast by the candidate himself.
Asked by BFMTV, Samuel Lafont recognizes that his team is at the origin of FR + creation at the end of January.
An approach reminiscent of Insoumission's rebellious activist approach, also presented as "media," has been published by people near Jean-Luc Mélenchon. However, unlike this platform, which clarifies its link to political movements, FR + hides Reconquête's position as a communication agency.
"The idea is to relay what other media don't, and show the facts," Samuel Lafont promised BFMTV to explain to Internet users the link between FR + and Eric Zemmour's party. He said he had no plans to add any specific mentions for.
Also, on Twitter, a communication activity that emphasized the keyword "Vote Caché", which started on March 20, recorded nearly 70,000 hits within 48 hours. Of the 72 tweets that were retweeted more than 100 times with this keyword, 56 were sent directly from the account linked to Eric Zemmour's campaign. The other 16 were published by internet users who define themselves as activists.
Experts have also strongly criticized the hidden voting theory that respondents did not expect.
"Almost all polls today are done over the internet. Therefore, the fact that you don't dare to say who to vote for doesn't occur. We're not interviewers or phone calls with interviewers. We. Is on his screen before. This argument doesn't hold. The proof is that when they ask the person who voted earlier, it's very close to the reality that wasn't the case on previous phones. " Ifop's Jérôme Fourquet has already described the liberation, March 2017.
During the last vote, and despite the announcement of Francois Fillon's team, the candidate did not ultimately benefit from the "hidden vote" from the French. According to poll estimates three weeks before the election, he certainly reached third place during the first round of the presidential election.